YouTube star David Dobrik taught a lesson to his friend with the help of a billboard. If you don't know, who is David Dobrik then I am giving you a brief idea about him.
David Doberik is a quite big name on YouTube. The full name of David Julian Dobrik and he is a Slovak-born YouTube personality. He has over 15 million subscribers. He found early success on the now-defunct video-sharing platform Vine, before creating a vlog-oriented YouTube channel in late 2014. Professionally, he is a vlogger on YouTube. He makes a vlog in which you will find everything which you need. Like- Drama, entertainment, Fun and more.
David Dobrik uploaded a video on Feb 4, 2020, on his YouTube video. Which is titled "PUTTING HIS DRUNK TEXTS ON A BILLBOARD!!". Right now, It has more than 7.9 million views and 550K likes. As a result, this video is in 1st position in the USA's YouTube trending list.
You can read this also: YouTuber David Dobrik surprised fans with Justin Bieber
David Dobrik is mostly known for prank, surprising people and give them gifts. But, the video which is uploaded on Feb 4 was different than his ordinary vlog.
In that video, he shown that David Dobrik's friend named Toddy Smith texted while he was drunk to Natalie Mariduena who is an assistant of David Dobrik.
So, that is why David Dobrik thought to teach a lesson to his friend for drunk texting. The text which Toddy Smith did was like "I am falling out of love" and "can we please cuddle".
You can read below the text which David Dobrik's friend Toddy Smith sent.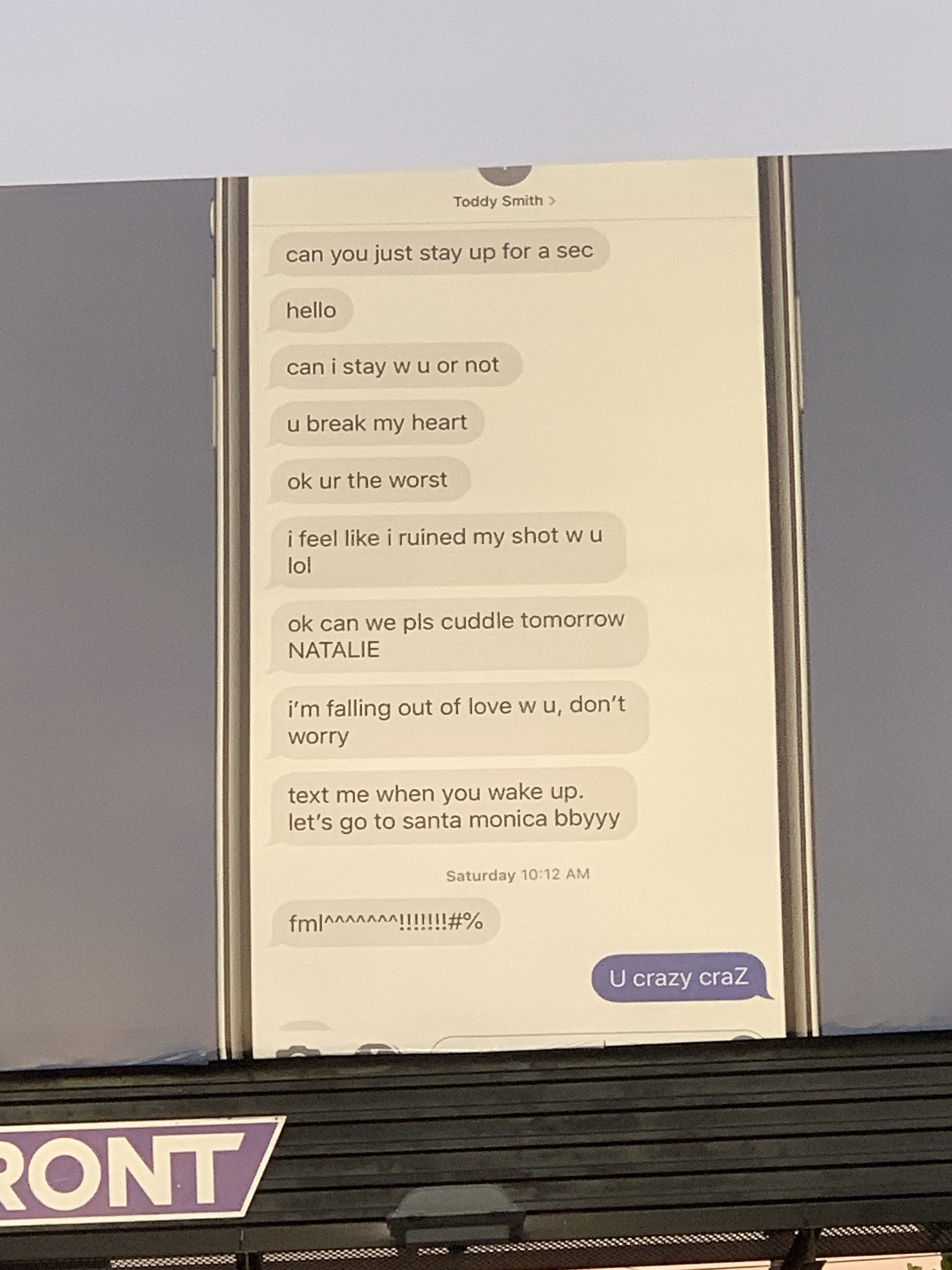 Natalie Mariduena showed the text to David Dobrik after 3 days of getting the text by Toddy Smith. The next day, David Dobrik bought a billboard in Hollywood and called his squad of a friend for seeing the billboard.
As you can see below, The billboard had a huge photo of Smith's face next to a full phone screen of text messages which Toddy Smith send to David Dobrik assistance Natalie Mariduena on a night out.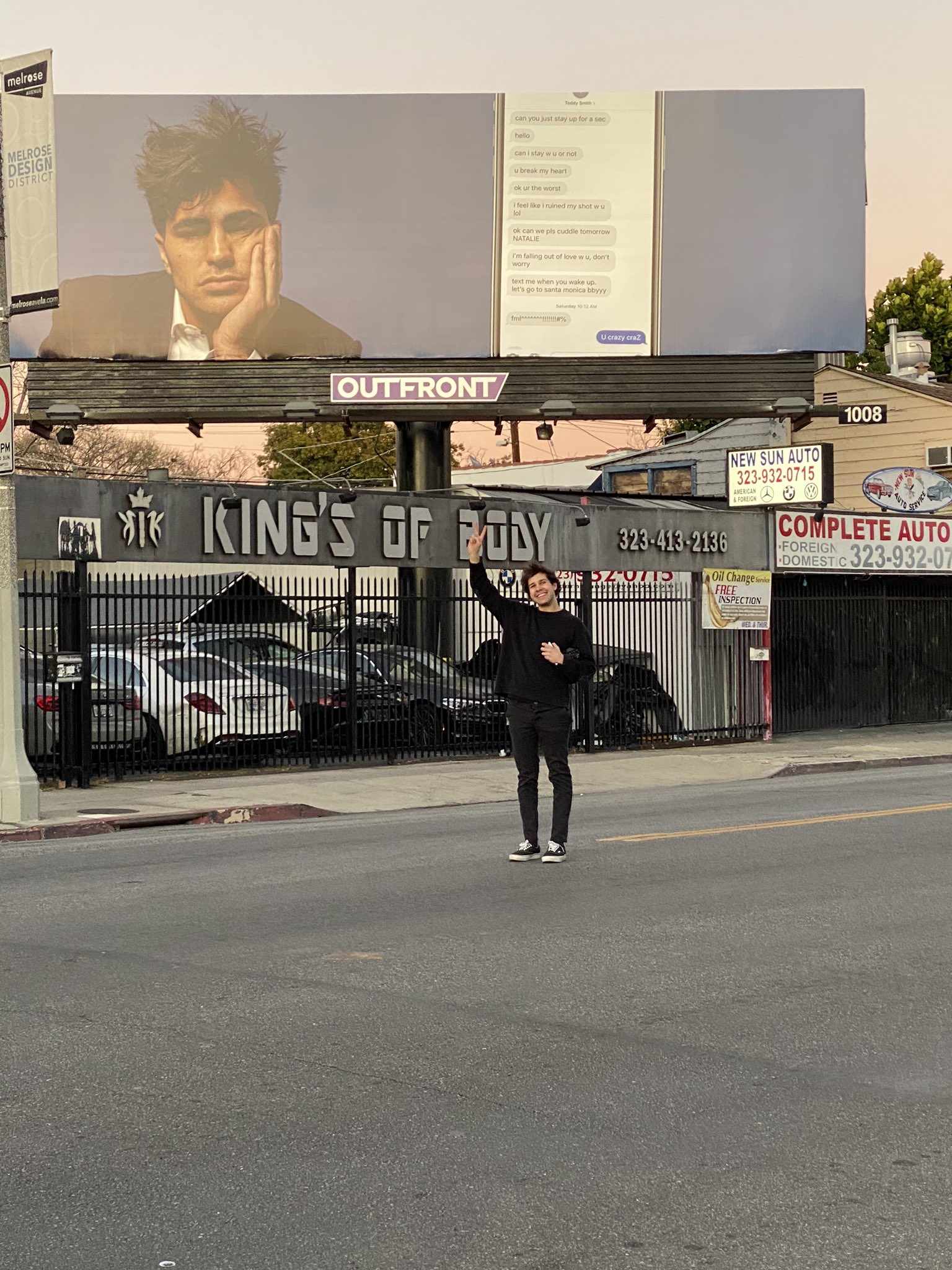 David Doibrik called Toddy Smith to that place where he set the billboard. Toddy Smith's eye was closed. But, as soon he opens his eyes and turned towards the billboard he astonished by seeing the billboard.
You can also read this:- RESULT: Jake Paul Vs AnEson Gib Boxing Fight
Toddy smith tried to read out the text which was written on the billboard. But, he was not able to do it. Then, he asked David Doberik what is that? David Dobrik replied that these are texts which were sent to Natalie Mariduena when he was drunk.
Toddy Smith gave his instant reaction by yelling "Oh my God, what the f—?". He was so surprised that he jumped on the wall. He said, "Are you kidding me?!"
Toddy Smith told David Dobrik to read the message which Natalie Mariduena sent him on an Instagram story. After, it was revealed that Natalie Mariduena sends a message on one of the Instagram story which was posted by Toddy Smith. And the text was like
"Miss being warm in your arms."

Natalie Mariduena sent
"I was f—ing with him,"

Natalie Mariduena said
You can watch his full video below
-Written by Aditya